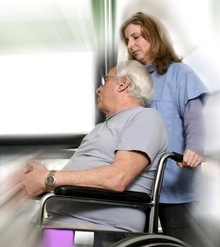 Thanks to medical advances and healthier lifestyles, people are living longer. That's the good news. But as we live longer, most of us inevitably run into problems associated with old age:
 arthritis, heart disease, stroke, memory loss, etc.
Long-term care insurance is the help needed to cope – and sometimes survive – when this type of chronic disability impairs your capacity to perform the basic activities of daily living.
Long-term care insurance includes an array of supportive medical, personal and social services which can be provided in your own home, a nursing home, in an assisted living/residential care facility, or in an adult day care facility.
Home Care: For most people, the option to receive care in the comfort of their own home is the choice they prefer most.  Care is generally provided by a licensed nurse or a licensed physical, occupational therapist.
Nursing Home:  A long-term care insurance polcy will provide coverage for all levels of care, from skilled to custodial, in a nursing home.
Assisted Living/Residential Care Facility:  The licensed facilities provide a great way to receive skilled nursing or custodial care in an environment that helps maintain independence and an active lifestyle.
Adult Day Care Facility: Offers care, health support and rehabilitative services for adults during the day.
There are also three levels of care:
skilled (or acute) care,
intermediate care, and
custodial (or personal) care
Since this is not medical care, it is not generally covered by your health insurance policy.
So what can you do to get prepared?  You have a few options:
Self insure through your personal savings.
Transfer some of the risk to an insurance company.
Let the government take care of you (welfare).
Which one is right for you? Most of that depends on your health and your net worth.
Many people don't look into long-term care insurance coverage because they feel they're already covered by Medicare, Medicare supplemental insurance, or health insurance. The truth is, most long-term care needs are not covered by Medicare, Medicare supplemental insurance or health insurance. Medical expenses, hospital bills and doctor's fees are, but often times nursing care and other long-term care needs are not.
Medicaid, the federal/state welfare system that finances health care for the poor does cover long-term care needs. But to qualify, you must exhaust all your assets to state-required levels. Then, and only then, does Medicaid pay. And there are limits to where care is provided.
Once you've decided on purchasing long-term care insurance, you'll want to know how it works.  First, you pay a premium based on your age when you apply.  Second, your insurance provider, in return, will give you access to insurance benefits.  These benefits come to you in the form of long-term care payments in the future.
Here are some things you will also need to know:
Benefit period:  The length of time after you file a claim that the insurance company will pay to cover the cost of your care.
Nursing Home Facility Benefit Amount:  The maximum amount per day the insurance company will pay for your care in a facility (i.e. assisted living/residential care or nursing home facility).  Company minimums and maximums apply.
Home Care Daily Benefit Amount:  Similar to the nursing facility listed above, however, this is the maximum amount the insurance company will pay for at-home care.  This generally is in terms of a percentage of your nursing-facility benefit, such as 100%, 75% or 50%.
Elimination Period or Deductible:  The number of days you must pay out-of-pocket before your policy begins paying benefits.  These can vary between the first day coverage to one-year.
Inflation Protection Option:  Available for an additional cost.  This allows your daily maximum to keep up with inflation.
Other types of insurance to consider:
Term insurance is for temporary simplified coverage with no cash value.
Permanent life insurance is where the policy is for the life of the insured and the policy accumulates cash value.
Whole life insurance is a policy which provides both a death benefit and a cash value component. The policy is designed to remain in force for a lifetime and premiums stay level and the death benefit is guaranteed.
Universal life insurance offers permanent coverage flexibility with less emphasis on cash value.
Variable universal life insurance for permanent coverage and potentially higher cash value through investment options.
Survivorship life insurance is for lifetime protection for two people that pays a benefit upon the passing of the surviving insured.
Disability insurance is designed to replace a percentage of earned income if accident or illness prevents the beneficiary from pursuing his or her livelihood